Enjoy browsing our great guided tours…
Combine with: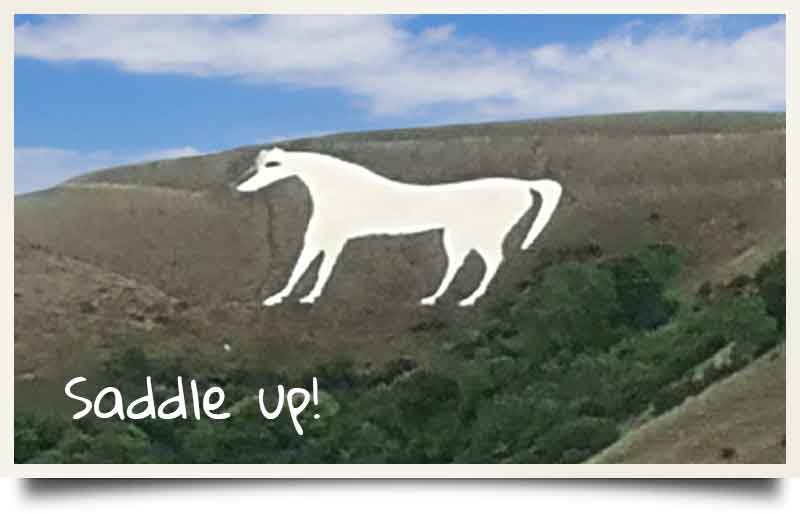 The Cherhill White Horse is an 18th-century hill figure on Cherhill Down in Wiltshire, 3.5 miles east of the town of Calne. It is the third oldest of several such white horses in Great Britain, with only the Westbury White Horse and Uffington White Horse being older.
The Cherhill White Horse was created in 1780 by Dr Christopher Alsop, a local physician and antiquarian. Alsop was inspired by the Westbury White Horse, and he wanted to create a similar figure on Cherhill Down. He recruited a team of volunteers to help him, and they worked for several weeks to cut the figure into the chalk hillside.
The Cherhill White Horse is 165 feet long and 220 feet high. It faces towards the north-east, and it can be seen from the A4 road and the nearby village of Cherhill. A good viewpoint is a lay-by alongside the westbound carriageway of the A4 where it passes below the horse. From near here, a footpath climbs the hill towards the horse.
Near the horse is an obelisk called the Lansdowne Monument. Standing tall at 38 meters (125 feet), the Lansdowne Monument, also known as the Cherhill Monument, is an imposing stone obelisk that graces the landscape near Cherhill. Erected in 1845 by the 3rd Marquis of Lansdowne, the monument was designed by Sir Charles Barry as a tribute to Sir William Petty, a distinguished ancestor. Its stark simplicity, devoid of ornamentation or inscription, adds to its enigmatic allure.
The Cherhill White Horse is a popular tourist destination, and it is also a popular spot for locals to walk and picnic. It is a reminder of the county's rich history and culture, and it is a beautiful sight to behold.
In addition to its historical and cultural significance, the Cherhill White Horse is also an important ecological site. The chalk grassland on which it is located is home to a variety of rare and endangered plants and animals. The White Horse is also a popular spot for birdwatching, as it is located on a migration route for many species of birds.
The Cherhill White Horse is a valuable asset to the local community and to the wider world. It is a beautiful and unique feature of the Wiltshire landscape, and it is a reminder of the county's rich history and culture.